Hi!
I write code, make emulators, play games, occasionally make unoriginal games, and very occasionally make some very amateur pixel art.
---
This year I'm gonna focus on three things:
Building dirt simple, completely unoriginal games - that my 18-month old daughter can play - in simple, restrictive gaming systems like Octo and eventually something like PICO-8. I'd like to play with QB64 aswell.
Get my Atari 2600 emulator to a state I'm happy with.
Make some more pixel art. I've got a bunch of ideas to recreate certain game items from modern games that I've played recently, but I'm super slow making pixel art since it's still super new :)
And because I'm super easily distracted, this list will probably completely change in 3 months.
---
My first piece of pixel art...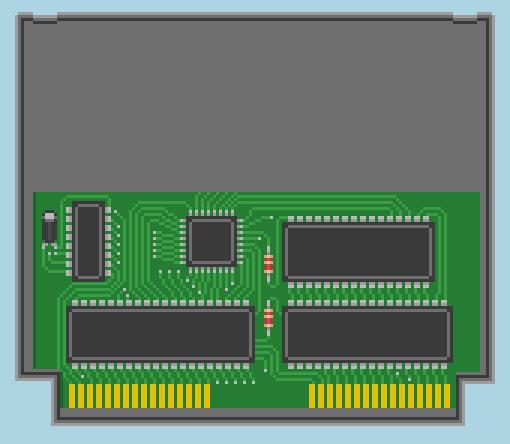 It's an open NES cartridge, specifically with a cartridge board from the TxROM family of cartridge boards, for which my handle is named. And I hate it.
I mean, I'm mostly happy with how it looks; the detail on the circuit board is what I wanted, and the resistors are my favorite bit, but I wanted to use this as a profile picture-type thing, and it just doesn't hit.